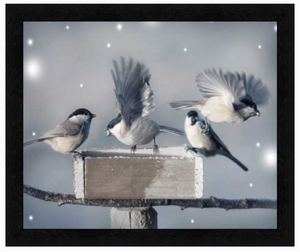 Description
The Gathering by Vera Kuttelvaserova Stuchelova.

This print uses Acrylic Finish rather than glass.
Acrylic Finish: This print will be treated with our Acrylic Finish. Acrylic Finish replaces the glass with a textured finish that gives the print the look and feel of an original painting. This finish also has a non-glare effect that makes viewing your framed art more enjoyable.
Art paper is to be used with Mat and glass or Acrylic Finish, Choose Art Paper then click the "Frame It" button to the right.  In the Glazing tab you can choose Glass or Acrylic Finish.
Gallery Wrap Canvas is wrapped on a 1.5" stretcher bar and can be hung as is or framed without glass or mat. 
Framed Art and Metal Art can not be framed. 
Dimensions: 25" x 21"