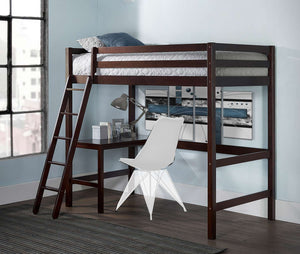 Mattress & bedding & chair not included.
This Study Loft has a plywood slat roll foundation and does not require an additional foundation of any kind. By design all 13 slats are properly spaced to ensure the safety of your child.
The distance from the floor the bottom of the slats is 54 ¾". This provides enough room for someone that is under 6 feet tall to study at the desk and not be concerned with head clearance.
Designed to accommodate an 8" mattress on the top bunk.
When using an 8" mattress, the top of the loft will sit approximately 63.5" high. This ensures a child has plenty of room to sit up in bed in a house with an 8 ceiling.
Mortise and tenon connections for the cross members into the post makes assembly easier and add to the strength of the bunks.
The ladder is left side facing.
The attached desk is tucked behind the ladder and measures 41"wide x 19 ¾" deep. The Desk Surface is 28 ¾" tall.
Flat ladder rungs make climbing up to bed pain free.
Hardware is hidden wherever possible to ensure a clean look. This is noticeable on the safety rail.