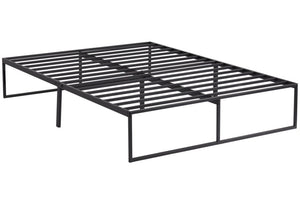 Brushed, matte-black steel has clean lines for a sleek and modern look.
Platform-style folding bed frame replaces box spring and provides quiet, sturdy support.
Frame offers 12 inches of clearance for extra storage under the bed.
Assembles in 10 minutes with included tools.
Static weight capacity for all sizes is 2,500 pounds.
Includes headboard slots and is compatible with most headboards.
dimensions
dim: Width (inches): 78" W
dim: Depth or Length (inches): 80" D
dim: Height (inches): 14" H